In search of sunshine
Winter is here. I can't deny it anymore. And now we are starting to get the payback for owning a huge flat with coal ovens: It is fucking freezing in here. Excuse my langugae – but then again don't! Its the appropriate way to express how it feels in the bedroom getting up in the morning. Damn fucking cold!
We imrpoved our living room couches with nice thick blankets, fished beanies and scarfs out of the storrage places and I bought a new pair of gloves. And of course every morning we are piling up coal briquettes in the ovens.
Still – while typing this text my fingers are freezing and I am sure if I would touch the oven it would make this funny kshhhh-sound – like water on a hot surface.
Which reminds me of an effect that with its name represents pretty much what living in German means at the moment: The Leidenfrost-Effect. (Leiden, das = dt. suffering) If you have never heard of it  – quick nerdy sidekick – watch this video.
But back to topic. I am cold. And what could be better than going abroad into the sun right now?
Since I just registered for my BA paper two days ago, I don't have the time nor the means to do that (unfortunately). So instead I surfed the online shop of one of my favourite lables in search of some kisses of sun. And – although not having the means for these things either – I found a pocket full of sunshine.
Lets start from the couch – with a oversized V-neck shirt: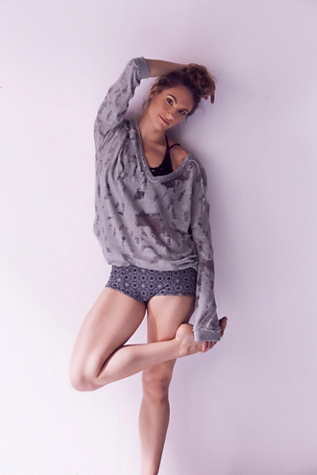 v-neck pullover – 40,45€ (currently on sale) – click
I love the rough texture  and the ripped / used look. And as you will notice, oversize is also a think of mine. Talking about which, we are moving on to the more beachy-look.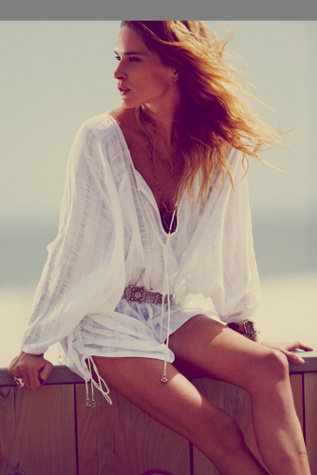 oversized tunic – 40,45€ (on sale) – click
Can you feel the sun? The wind in the hair? And the burned skin on your back under the cotton? Sitting on the beach, listening to the waves and the seagulls…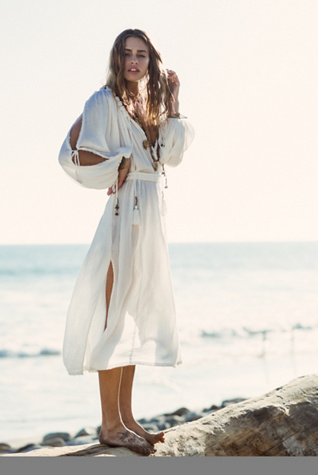 Dreaming of the Sun Maxi Dress – 103,65€ – click
One of my favourites. And could it have a better name for this post? I think I have to get myself this little (maxi) treat. I like to call it a 'show me your boobs'-dress because – let's be honest – who would wear this without a bikini / bra / top?One way or another – gorgeous it is. In my head of course all the dresses go barefeet and combined preferably with these: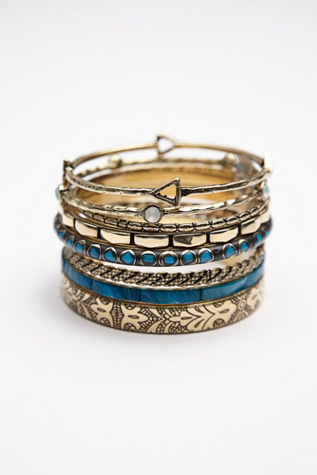 Mixed Bangles – 22,67€ – click
Nothing – really nothing (!) goes better with sun tanned skin, wide, light, bright dresses than turquoise! So don't stop – here comes a real beauty: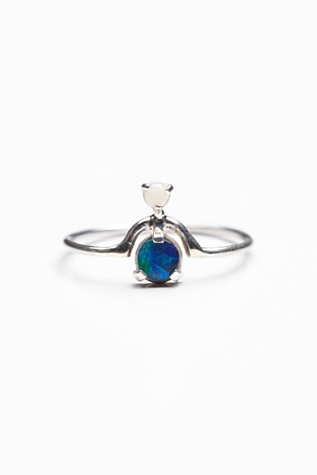 Quest Ring – 38,87€ – click
Rings are one of the things that I do wear regularily (and lose on a regular basis just as much). But this one is a killer. Honestly! Maybe Santa is also looking for suggestions what to get for me?
Okay but if you thought I had enough by now you are wrong. The best part is yet to come: Free People dresses!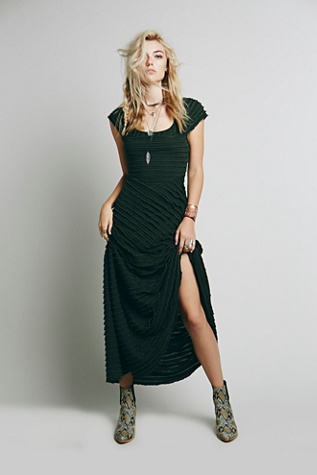 Ruffle Rows Maxi Dress – 80,94€ (on sale) – click
Yes, I know, the shoes are a no-go. But I wanted to start with a rather warm dress and then move up to a real highlight. Although the ruffle rows really got my attention. Maybe baby?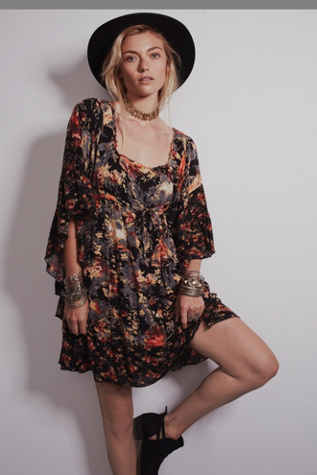 Heart of Gold Mini Dress – 119,85€ – click
After two long ones, I'd like to show you two rather short beauties. This specific dress I honestly have no idea why I like it so much. These floral patterns usually are not my cup of tea – I think they easily look frumpy, dark and depressing. But his one seems to have glowing colors and the fabric looks so silky and light…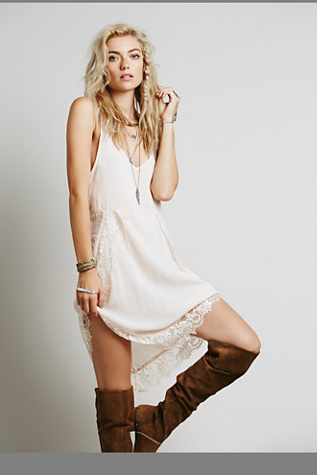 Eyelashes Slip – 55,07€ – click
Silky and light is also something this dress seems to be. I like to call it 'show me your side-boob'-dress but I think that for a really hot summer day or after sundown with a oversized and or cropped longsleeve on top, this dress can be a real game changer.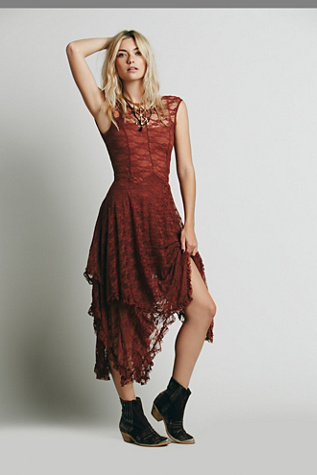 v-back Slip – 79,36€ – click
Going longer again with this tempting red one. I can not really say why, but since I was a child I loved layered dresses and skirts. This one is with the lace the perfect match for all my dreams of being a pirate or a fire-breather traveling with a circus group. Of course (again) I would go barefoot with this one – just to feel the warm stones and the weeds under my feet.
And now – instead of listing more and more oversize maxi dresses in all possible colors, patterns and shapes I give to you the ultimate dress: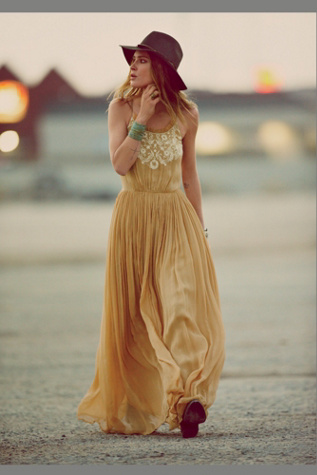 Full of Grace Dress – 615,44€ – better don't click
Which girl has never dreamed of a silk dress? Okay there prolly are some out there but I know only very few girls, that would refuse such incredible beauty. Wavy ochre / golden silk, beautifully detailed embroidery on the neckline. Please god give me this dress or kill me now!
(I am still alive – that can only mean good… or that god doesn't exist…)
Imagine walking on the beach right before the sun comes up, chilly fresh air and silence around you. You hear the waves and your feet in the wet sand and you know, that in this moment you are the most beautiful person on earth. And you know, that when you are back from your walk, you will have a nice breakfast and a cup of tea to warm your fingers on.
I for now will start with the tea.
– MM.